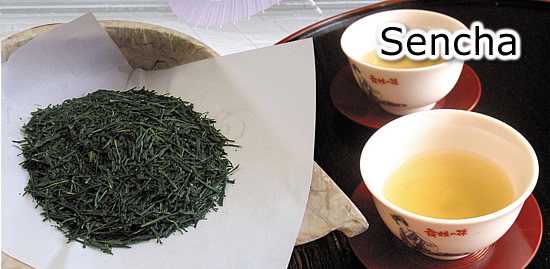 Sencha accounts for 75% of green tea produced in Japan. It is the most popular and common tea in Japan and served for daily drinking use.
At the tea garden (open-air tea field) buds are picked from plants fully exposed to sunlight, then are stemed and dried as they are kneaded. Sencha has a unique fresh aroma and refined astringency.
Although all Sencha contains caffeine the efficacy of the caffeine in green tea is mild in the presence of other nutrients and vitamins. Nevertheless it does revitalize and wake the drinker in a healthy manner. That is why green tea first came to Japan as a medicine and incidentally there are many Japanese proverbs that refer to its awakening effect in the morning.





Once a year the highest evaluating authority in the world of Japanese tea holds a national tea exhibition. Our 'Shuppin Sencha' (exhibition sencha) is a blend of Sencha teas which were carefully selected and closely examined at this nationwide tea exhibition.
Please enjoy the taste of this Sencha which combines the labor of many tea farmers, who have presented the best of their crop at the national exhibition.
Along whith the typical refreshing taste of this tea please also delight in the beautiful color and shape of the emerald tea leaves.


How to prepare delicious Sencha

---

Item#

215

Name

Sencha "Shuppin-Sencha"

Net weight

Shipping weight

Storage life

10 months

Price

4,050 yen


Please order from our new webshop


From the beginning of spring the Japanese calendar counts

88 days to the harvest of this tea which is called Hachiju-hachiya (88 nights). This tea from the first harvest contains the very tender buds of the plant. When affused with hot water it creates a tasty balance of mellow sweetness and light refreshing astringency.


How to prepare delicious Sencha

---

Item#

225

Name

Sencha "Hachiju-hachiya"

Net weight

Shipping weight

Storage life

10 months

Price

2,700 yen


Please order from our new webshop


Maruyama means "Circle Mountain" and refers to a pleasant hilly park area in Kyoto. This excellent Sencha is made of young tea buds picked during the first harvest of the year. It is of good quality with a sweet flavor and a pungent Sencha aroma. Similar to Hachijuhachiya Sencha, brew with water of about 70 degrees celcius.


How to prepare delicious Sencha

---

Item#

235

Name

Sencha "Maruyama"

Net weight

Shipping weight

Storage life

10 months

Price

2,025 yen


Please order from our new webshop


Very popular in Japan!
Kyo no Tsuyu means Dew of Kyoto and refers to the wonderful mellow flavor of this tea.
It is a higher quality Sencha with a good body and excellent, fine flavor.

How to prepare delicious Sencha

---

Item#

245

Name

Sencha "Kyo no Tsuyu"

Net weight

Shipping weight

Storage life

10 months

Price

1,350 yen


Please order from our new webshop


Kamo means lush and refers to an area in the Uji vicinity that prides itself with a bountiful harvest of first class green tea.
A fine quality tea for daily drinking with a lightly sweet Sencha flavor.
It is very popular in Japan because of its cleansing pleasant aroma.


How to prepare delicious Sencha

---

Item#

255

Name

Sencha "Kamo"

Net weight

100 g (3.53 oz) in bag

Special customized order

Shipping weight

Storage life

10 months

Price

1,080 yen


Please order from our new webshop



Preparation of various

Gyokuro

Maccha

Sencha

Shiawasecha