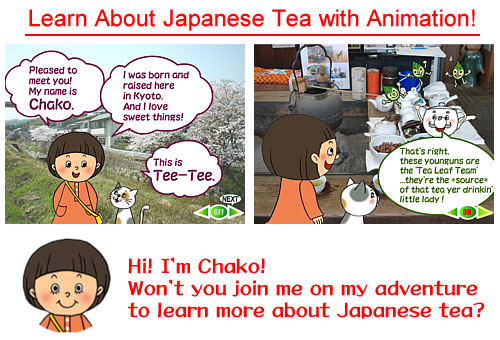 Message

$B!!(J

We would like to familiarize as many people as possible with facts about Japanese green tea. For that reason, we provide an informative animation movie that even children will enjoy.
The story begins when a little girl named Chako goes to the MaikoTea Store (Maikonocha) on an errand for her mother. There, she discovers intriguing facts about Japanese green tea from the knowledgeable Professor Teapot.
We welcome you to join Chako on her Tea Exploration Adventure.
Animation Production
$B!!(J
The animation movie was created with the help of students from Kyoto Seika University Institute for Manga Studies. Kyoto Seika University is the only university in Japan that boasts a Faculty of Manga Studies.

1.Let's go to Maikonocha
Chako visits the MaikoTea Store (MAIKONOCHA) on an errand for her mother, to buy some tea. The tea she is offered there is sooo good!
2.Tea Picking
Chako experiences "ochatsumi," or tea picking, with Professor Teapot.The difference between Gyokuro tea fields and Sencha tea fields is amazing!
3.Tea Processing
Chako learns about the traditional "temomi" tea manufacturing process from Mr. Toshikazu Yamashita, the great Gyokuro temomi master in all of Japan.
4.Tea Varieties
Chako finds out about the various types of Japanese green tea. There are so many different kinds!
5.Serving Tea
Chako learns the proper way to prepare tea. With a little skill, the same type of tea tastes even better!
6.Tea and Health
Chako discovers the many valuable nutritional elements of green tea.The green tea you drink daily is very beneficial to your health.

Chako (Main character)
$B!!(J
Full of curiosity, interested in learning about everything! She loves sweets. Born and raised in Kyoto.
Tee-Tee
$B!!(J
Chako's faithful friend.
Professor Teapot
$B!!(J
A green tea connoisseur-- his knowledge surpasses even that of Japanese green tea instructors. He's ready to provide you with an answer to any question you ask!
Team Tea Leaf
$B!!(J
The very essence of delicious green tea. Please wholly enjoy its great flavor.
Mrs. Hiroko (Hiroko Tamiya)
$B!!(J
MaikoTea's special tea-lady. She loves smiling and smiles!
Mr. Yamashita (Toshikazu Yamashita)
$B!!(J
Greatest Gyokuro Master in all of Japan!
His "temomi" (tea processing) skill is matchless, enriched by experience and age.
Chako's Mother
$B!!(J
Chako has been asked by her mother to go to MaikoTea on an errand for her. Chako's mother is a regular customer at Maiko Cha Boutique.
Preparation of various

Gyokuro

Maccha

Sencha

Shiawasecha